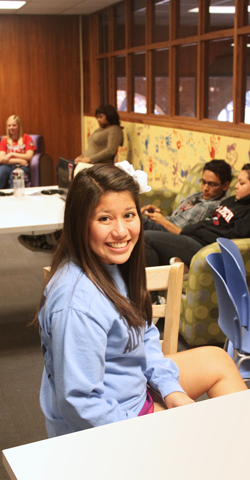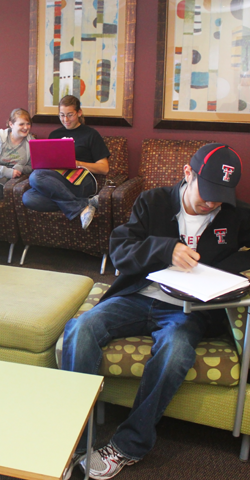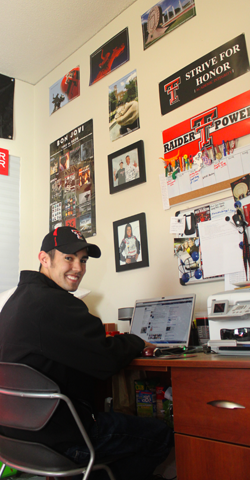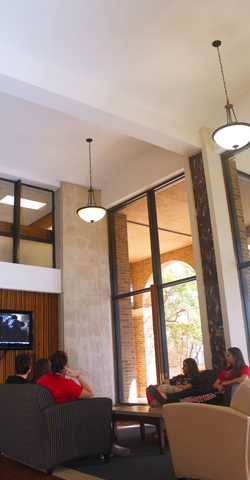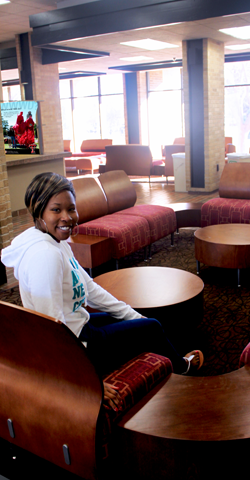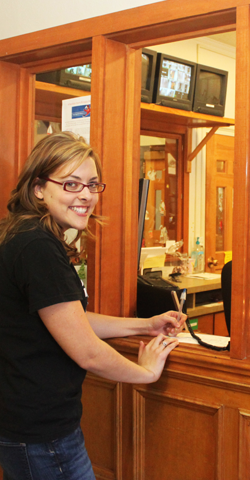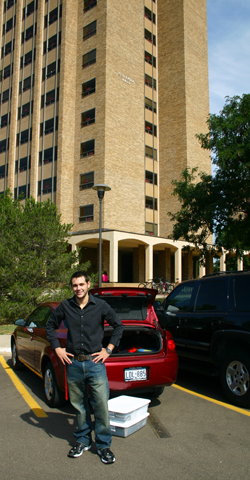 Residence Halls
The Texas Tech University Residence Hall system houses more than 7,200 students in 13 residence halls, 3 suite-style halls and 1 apartment complex. These halls consist of 3, 4, 5, 6, 7 and 12-story buildings. Buildings of more than 3 floors have elevator service with the exception of Sneed Hall. Individual room sizes vary in each building.
Living in the residence halls is convenient, simple and virtually worry free. It's a fun and easy way to experience the excitement of college life. Students who live in the halls are more likely to meet new friends, have more exciting experiences on campus and don't have the hassle of leaving and returning to campus for events, activities and classes.
Make friends for life
Never have to cook
Close to all the action
Save money on gas
Free tutoring available
Healthy meal choices
Sleep in later
Limitless laundry
Use our handy Comparison Chart » to see all your options
All residence halls are air conditioned and are non-smoking living environments. In addition to the fall and spring semesters, summer and year-round housing is available. Facilities for students with disabilities are also available in several residence halls.
Learn about Move In » before you get here!
Learning Communities
On the Texas Tech campus, a Learning Community houses a group of students on one or more floors of a residence hall with an academic unit focus such as health sciences, architecture, fine arts or a common interest such as first year experience. All share a common goal of creating an educational environment that brings educators and students together to enhance student learning.
We currently have 15 Learning Communities where over 2,300 Red Raiders (about 1/3 of our population) reside. Living in our LCs boosts your chances for academic success and offer the opportunity to share an intellectual experience with your peers. You will also have increased access to faculty and academic support staff.
Other Options
Summer Housing
A limited number of residence halls are open for summer. Students may request housing for the summer and interim periods even though they are not enrolled in summer classes, provided the student will be enrolled for the fall semester.
Married/Family Student Housing
Texas Tech University does not operate housing for married students or students with families.
Graduate Student Housing
Graduate students are eligible to sign up and contract for space in any residence hall. We encourage graduate students to sign up for housing in the Carpenter/Wells Complex », Murray Hall » or the West Village ».
Shared Rooms with Movable Furniture
Some residence halls have movable furniture which gives the resident flexibility in furniture placement and room decorating. Bledsoe and Sneed Halls offer men's rooms with movable furniture. Horn and Knapp Halls offer women's rooms with movable furniture. Each resident room has individual temperature controls.
Shared Rooms with Built-In Furniture
Each room includes a sink and built-in furniture consisting of chests of drawers, pull-out beds, desks, chairs, closets with overhead storage and bookshelves. Some offer individual temperature controls.
Apartments & Suites
Our apartment and suite style halls offer students a single occupancy bedroom and semi-private bathrooms. Carpenter/Wells Complex and Murray Hall are available to both men and women of sophomore classification or higher. Gordon Hall offers a unique co-ed by suite living arrangement for students admitted to the Honors College.