Gordon Hall
Gordon Hall offers a unique co-ed by suite living arrangement for men and women admitted to the Honors College. Students share a suite with students of the same gender only. Living areas are designed in a suite-style: a furnished living room sits between two bedroom units, which each accomodating one or two students and including a vanity area and private bathroom.
The hall provides many comforts, including a TV lounge, study rooms, vending areas, an open meeting/recreation room, two kitchens, Cable TV (including free Showtime) and Internet connections in all rooms. And our newly upgraded limitless laundry rooms now have WiFi! For 2015-2016, all residents will be a part of the Honors Learning Community ».
$5,220.00
shared room
shared 2 resident bathroom
Northeast campus
All rates » in this table are for the academic year.
Room Furnishings
Furnishings consist of:
Beds
Desks and chairs
Chest of drawers
A sink
Medicine cabinet with a mirror
Closets
A ceiling fan
All furnishings are moveable. For room and furniture dimensions refer to the chart at Room Furnishings.
Also, please check our What To Bring » list for information about what you can and cannot bring ot your residence hall room.
Room Layout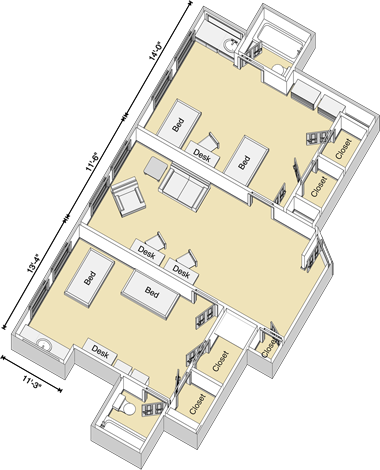 Hall Floor Plans
Dining Options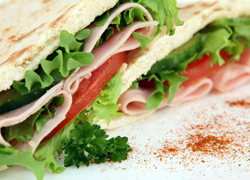 The Fresh Plate at Bledsoe/Gordon is a state-of-the-art dining location that features an all-you-care-to-eat menu in a semi food court style atmosphere.
Choose from flame-grilled choices, breakfast all day, Mexican selections, Asian dishes, pasta sensations, fresh salads, home-style choices, sandwiches, plus a variety of fruits and desserts. Brunch is served on teh weekends and carved entrees are served on Sundays. Sam's Place Mini-Market at Sneed Hall provides convenient and quick dining services. Visit the Hospitality Services website for more information.