Stangel/Murdough Complex
The Stangel/Murdough Complex, located on the central-western edge of the main campus, is near the Jerry S. Rawls College of Business Administration and the Biology and Experimental Sciences Buildings. Men and women live co-ed by wing in both Stangel and Murdough hall.
The complex features two sand volleyball courts, a TV lounge, piano lounge and study lounges (second and fourth floors), Cable TV (including Showtime) and Internet connections in all rooms. And our newly upgraded limitless laundry rooms now have WiFi!
For 2015-2016, Stangel Hall will feature the Health Sciences » Learning Community.
For 2015-2016, Murdough Hall will feature the College of Agricultural Sciences & Natural Resources », Media and Communication », PEGASUS » and PreLaw » Learning Communities.
$4,510.00
shared room
shared wing / floor bathroom
West campus
All rates » in this table are for the academic year.
Room Furnishings
Each room has built-in furniture consisting of:
Pull out beds
Desks and chairs
Chests of drawers
A sink
Closets with overhead storage
Bookshelves
Each room has individual temperature controls.For room and furniture dimensions refer to the chart at Room Furnishings ».
Also, please check our What To Bring » list for information about what you can and cannot bring ot your residence hall room.
Room Layout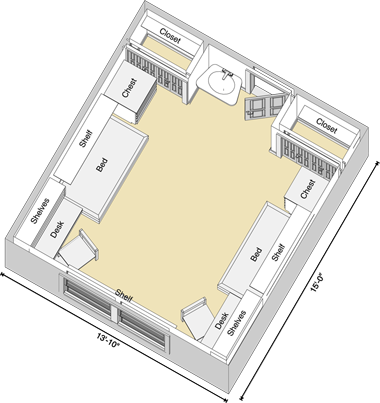 Hall Floor Plans
Dining Options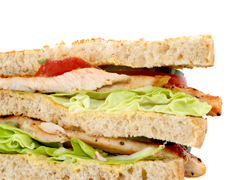 The Market at Stangel/Murdough creates a food court atmosphere where the entrees are prepared right before your eyes. The Market hosts numerous options to satisfy all students' appetites.
Specialties include Italian subs, rotisserie chicken, fresh-tossed salads, Mexican entrees, chicken wings, Asian-inspired dishes, pizza, made-to-order pasta and a baked potato bar.
All of these options are available for dine in or carry out. Certain venues at The Market are even open for late-night hours. Visit the Hospitality Services website for more information.