Professing Excellence
Professing Excellence is a formal ceremony in which Texas Tech students are given the opportunity to nominate faculty members and present awards to those who have demonstrated exceptional educational skills. The awards are given to outstanding faculty who go above and beyond, both inside and outside the classroom, to impact their students' learning and academic success.
Nominations are now being accepted for this year! Please visit the Professing Excellence: 2014-2015 Nomination Form » and let us know about an outstanding faculty member who has made an impact on your education. Nominations are due by February 6, 2015 at 11:45 p.m.
This year's presentations will take place on Wednesday, March 26, 2015 at 3:00 p.m. in the Matador Room in the SUB.
Professing Excellence Honorees 2014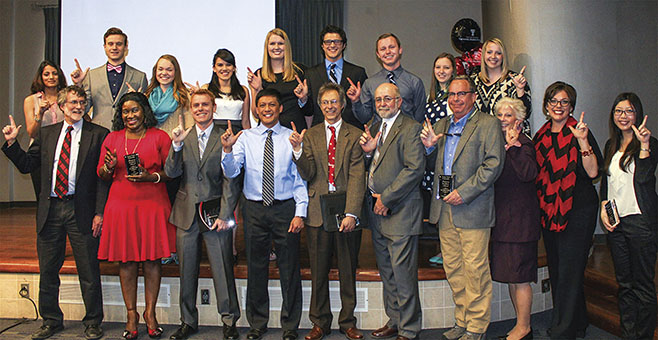 Prior Honorees
2013 Honorees
2012 Honorees
Sean P. Cunningham, Ph.D., Assistant Professor - History
Rhonda Lea Boros, Ph.D., Assistant Professor – Exercise and Sports Science
Javier Gomez, Ph.D., Assistant Professor - Architecture
Linda Jones, M.A., Instructor - Geosciences
Richard Verrone, Ph.D., Instructor - History
Jorge Iber, Ph.D., Associate Professor - History
Bruce Whittlesey, Ph.D., Associate Professor, Chemistry
Robert Wernsman, M.A., Instructor - Journalism
RayChel M. Lowrance, M.A., Instructor - English
Catherine Blackwell, M.A., Instructor - English
2011 Honoress
Dominick J. Casadonte, Jr., Ph.D., Minnie Stevens Piper Professor - Chemistry & Biochemistry
Tamara E. Hanna, Ph.D., Instructor - Chemistry & Biochemistry
Magdalena D. Toda, Ph.D., Associate Professor - Mathematics & Statistics
William R. Pasewark, Ph.D., Professor - Accounting
RayChel M. Lowrance, M.A., Instructor - English
Michael L. Dini, Ph.D., Ph.D., Associate Professor - Biological Sciences
Diane S. Wood, Ph.D., Professor - French
Jan E. Lupton, M.Ed., Instructor – Secondary Education
Jorge S. Zamora, Ph.D., Associate Professor - Spanish and Portuguese
Erin E. Hardin, Ph.D., Associate Professor - Psychology
2010 Honorees
Michael Dini, Ph.D., Associate Professor - Biological Sciences
Tamara Hanna, Ph.D., Instructor - Chemistry & Biochemistry
Lewis Held, Ph.D., Associate Professor - Biological Sciences
Stacy Jacob, Ph.D., Assistant Professor - Higher Education Program
Erin McCrory, Teaching Assistant - Psychology
Robert Peaslee, Ph.D., Assistant Professor - Electronic Media & Communications
Jo Temple, Ed.D., Instructor - Mathematics and Statistics
Richard Wannemacher, Instructor - Finance
Robert Wernsman, Instructor - Journalism
Heath Wing, Teaching Assistant - Classical and Modern Languages and Literatures
2009 Honorees
Michael Dini, Ph.D., Associate Professor - Biological Sciences
Jerry Dwyer, Ph.D., Associate Professor - Mathematics & Statistics
Mary Ann Edwards, Instructor - Journalism
Stephen Ekwaro-Osire, Ph.D., Associate Professor - Mechanical Engineering
Michael Gelfond, Ph.D., Professor - Computer Science
Javad Hashemi, Ph.D., Professor - Mechanical Engineering
Stephanie Jones, Ed.D., Assistant Professor - Educational Psychology & Leadership
Michelle Keck, Political Science
Kimberly Simon, Applied & Professional Studies
Christopher Smith, Ph.D., Associate Professor - Music