How to Sign Up
Manual Assignments
In order to facilitate a smooth sign up process, students who apply for housing for fall 2015 – spring 2016 will provide housing and dining plan preferences. Assignments will be made by University Student Housing staff on a daily basis, based on availability.
An email will be sent to the student's official Texas Tech email account once they have been assigned. For updates on assignments, students are encouraged to check their Texas Tech email or revisit the housing assignment checklist at housing.ttu.edu/eRaider/prsEntry.php » and select the fall term.
For questions about the sign-up process, please contact University Student Housing at (806) 742-2661 or email housing@ttu.edu
Sign Up Process
Priority Room Selection is the system we use to guide residents through the process of choosing their own bed space and dining plan. It allows students to select their own bed space in a particular room and hall; it does not allow students to select a particular roommate.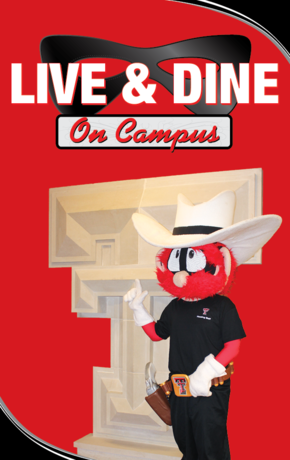 Students are encouraged to explore the various Learning Community » options. If a student's academic major changes, they may move to a different community as space allows. Students accepted into the honors college may change into the Honors Learning Community » if space is available.
Students with less than 30 post high school credit hours are required to live in the residence halls unless exempt by Operating Policy (OP) 30.25 ».
Sign Up for Fall 2015 – Spring 2016
Stage 1 (Same Room)
October 6 - 10, 2014
You want to keep your exact same room for next year. Check the chart below to make sure you are not displaced.
Stage 2 (Displaced Students Only)
October 13 - 14, 2014
Your floor environment is changing! You will be able to select the same type of hall somewhere else on campus.
Stage 3 (New Room / Hall / Suite / Apartment)
October 15 - November 2, 2014
Are you ready for a change? Select any available room on campus including West Village! »
Stage 4 (New Students)
November 3, 2014 - August 14, 2015
Any admitted student may select a room! Undergraduate, transfer and graduate students may all live on campus.
Ready to begin the Priority Room Selection process?
Don't want to sign your contract or make a payment online?
Learn about our Offline Services ».
Before you get started...
Please be sure you are using a supported browser. On a Windows computer, you can use either Internet Explorer 9+ or Firefox 8+. On an Mac computer, you can only use Firefox 8+.