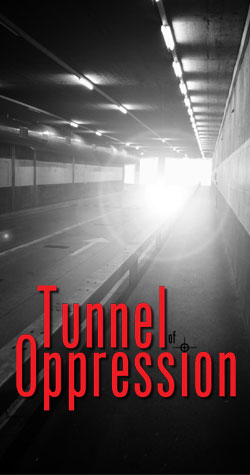 Tunnel of Oppression 2013
Tuesday, October 22: 8:00 am - 9:30 pm
Wednesday, October 23: 8:00 am - 9:30 pm
Student Union Building: Red Raider Ballroom
The Tunnel of Oppression is an immersive experience where you will encounter first-hand different forms of oppression through interactive acting, hearing monologues and multimedia presentations. Participants come in direct contact the following scenes of oppression: ability, class, body image, immigration, homophobia, religious oppression, relationship violence, sexism and race. Some scenes are monologues from actual student experiences on campus; others deal with local hot topics. At the completion of the Tunnel, participants will participate in an active 30 minute processing session, where they will discuss the experience and learn how they can rethink their role in creating positive social change.
Tour the Tunnel
Tours begin every 10 minutes, and will take approximately 45 - 60 minutes to complete. Due to limited space, reservations are highly recommended, but walk-ins are always welcome.
We highly encourage participants to experience the tunnel as a group, whether it be a class or student organization.

Join the conversation on Facebook!
About the Tunnel
The Tunnel of Oppression highlights contemporary issues of oppression by introducing participants to the concepts of oppression, privilege and power. Participants are guided through a series of scenes that educate and challenge them to think more deeply about issues of oppression.
The Tunnel is a campus grassroots diversity program that originated in 1993 at the Western Illinois University. Using the Museum of Tolerance in Los Angeles, California as a model, the Tunnel strives to give people a way to experience oppression in a hands-on way. By engaging the emotions of the participants, it allows for the accounts expressed in the program to be truly effective. People may have never been placed in these types of situations, and they obtain a sense of what it actually feels like to be oppressed or discriminated against. While the Tunnel may be disturbing, it is an effective tool used to teach people about how it really feels to be in the various situations.
After the incredible response and positive feedback we received after the last several years, the Tunnel has now become an annual event. This is the 9th year that University Student Housing has sponsored this event.
Sponsorships & Partnerships
The Social Justice Education Committee would like to thank the following organizations and departments for their financial sponsorship of this year's Tunnel of Oppression program:
The Social Justice Education Committee would like to thank the following organizations and departments for their partnership in making this year's Tunnel of Oppression program a success. These organization helped with volunteer recruitment, marketing, and resources for TTU students.
Resources
Campus Offices
Campus Clubs and Organizations
General Civil Rights Organizations
Volunteer Opportunities
Would you like to volunteer to help with the Tunnel of Oppression? Signing up is easy!
This year we're using VolunteerSpot to organize our volunteer efforts. To get signed up, visit our VolunteerSpot page and choose your shift(s). VolunteerSpot will send you an automated confirmation and reminders.
Please Note: VolunteerSpot does not share your email address with anyone. If you prefer not to use your email address, please contact Melissa Cook so he may sign you up manually.

Contact Us
Do you have questions? Would you like more information about supporting the Tunnel of Oppression at Texas Tech University? Please email an organizing staff member of the Social Justice Education Committee: