Winter Break Closing
Residence Halls Close
Thursday, December 11, 2014
10:00 a.m.
Residence Halls Reopen
Sunday, January 11, 2015
10:00 a.m.
You should vacate your room no later than 24 hours after your last final or no later than December 11, 2014 at
10:00 a.m.
Room or Hall Moves » must be completed by December 12, 2014 at 12:00 p.m. (noon). Check with your hall office for details.
If you need to request to stay past December 11, 2014 or are changing rooms, you must fill out the Stay Late at Winter Break Request »
Residents who need to cancel their housing after December 11, 2014 but have not yet moved out will need to contact housing@ttu.edu or call (806) 742-2661 to schedule a move out time on January 8, 2015 or January 9, 2015.
Reminders
Make sure to attend your floor/courtyard closing meeting and talk to your CA/SCA to receive further information on Winter Break Closing.
Residence Hall staff will be entering all rooms over the winter semester break. All policy violations will be documented at that time.
Additionally, maintenance and custodial staff may be entering your room to change heating and air conditioning filters or to clean suite bathrooms during the break.
24-Hour Quiet Hours for finals will begin on December 3, 2014 at 10:00 p.m.
The last day of mail delivery is December 11, 2014, except for Murray, Carpenter/Wells, and West Village. Mail will not be forwarded over the winter break.
If you will not be moving to a new room for the spring semester, you are not required to take all of your belongings home over the break.
If your roommate is not returning next semester, please prepare your room for a new roommate by keeping the other side of the room empty and clean. You will be charged (retroactively) for a single room if a new roommate cannot move in but may still receive a roommate for the spring term.
Your room is reserved for the full academic year. If you will not be returning to TTU for the spring 2015 term, please visit the USH Welcome Center to cancel your contract.
Don't Forget To:
Let your CA/SCA know when you are leaving
Make sure you have everything you need for the break (medication, passport, jewelry, electronics, airline tickets, contact lenses, etc.)
Be sure to take fish home with you if you have them
Clean, defrost and unplug your mini-fridge (takes about 1 day) - Do not unplug common space refrigerators
Unplug everything in your room (Except Murray, Carpenter/Wells, and West Village)
Remove all perishables from your room
Take out your trash
Close your blinds and lock your windows
Turn off all lights and ceiling fans
Check to make sure you are following all University Student Housing policies » during the break
If you do not plan to return to Texas Tech after the semester break:
Go to the University Student Housing Welcome Center in the Wiggins Complex to cancel your contract
Set up a room checkout with your CA/SCA
Make sure everything is removed from your room and your room is clean
If you withdraw from the university after leaving for Winter Break, you are also required to cancel your University Student Housing contract. Start the process by contacting the Welcome Center at housing@ttu.edu.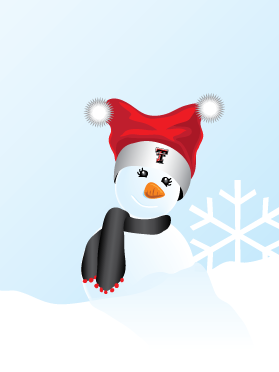 University Student Housing Offices located in the Wiggins Complex will be closed Monday, December 22, 2014 – Thursday, January 1, 2015
for university holidays.
We will reopen at 8:00 a.m. on Friday, January 2, 2015.